Sanborn County 4-H Building Addition Project
Sanborn County has a very active 4-H program and we have outgrown the current 4-H Building.
4-H Members in 2004 = 30 ** Today = 160+
4-H Shooting Sports in 2008 = 15 ** Today = 90
Plans are underway to expand the 4-H building so that we can better accommodate our activities including the 4-H shooting sports program that meets on Sunday afternoons and Tuesday nights from January-April, our annual Achievement Days, and many other 4-H activities.
We also have a need for current and potential community and school activities throughout the year including meetings and workshops, graduation receptions, showers, family reunions and get-togethers, Forestburg alumni reunion, school plays, FFA activities, marching band practice, cheerleading practice, and much more.

The drawing is a rough draft but is intended to show that the current building is current 100' x 60'. The addtion will also be 100' x 60' and will include a family/handicap-accessible restroom and off - kitchen storage. The addition will be constructed on the north end of the current building.




.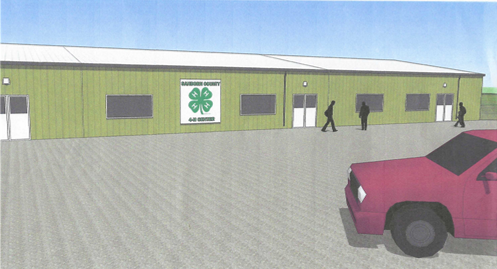 A major step in this process is of course fundraising! Total goal is $300,000. To date we have raised/have commitments for $125,000+ of this amount. We intend to raise the remainder through donations, fundraising and grants. This brochure will provide a rough draft of the planned addition, donor level opportunities and information on the need for the addition.
http://www.sanborncounty4h.com/doc/4-HBuildingProjectDonorBrochure.pdf

You may contact any of the Building Committee members for more information: Scott Senska, Art & Audrey Kneen, Andy Ettswold, Riley Zoss, Rod Weber, and Paula Linke. The Sanborn County Commissioners have committed $100,000 to this project. We invite you to join us as we grow into the future by being a donor for the Sanborn County 4-H Building Addition project. Sponsorship levels are as follows:

Naming Rights:
¨ BB Gun Shooting Range - $10,000 - committed - "Bus's BB Gun Range" (Ettswold Family)
¨ Air Guns Shooting Range - $10,000
¨ Kitchen/Concession Stand - $10,000 - committed - "Sutton's Snack Shack" (Senska Family)
¨ Horse Arena - $10,000
¨ Show Ring - $15,000
General Donor levels with Plaque

Recognition on Wall:
¨ Platinum - $5,000+
¨ Gold - $2,500 - $4,999
¨ Silver - $1,000 - $2,499
¨ Bronze - $500 - $999

2x4 Signage in Building Addition
¨ $500 annually
¨ 1st year must also pay for cost of sign
*******************************************************************************************************************************
Send your donation to:
Sanborn County 4-H
c/o Velma Kneen, Treasurer
22274 406th Ave
Forestburg SD 57314
Name: __________________________________________________
Address:_________________________________________________
City: ____________________________________________________
Phone: __________________________________________________
Email: ___________________________________________________
Amount: ____________________
Sponsorship Level:
________________________________________________
Name or Business as you wish to be recognized:
__________________________________________________________